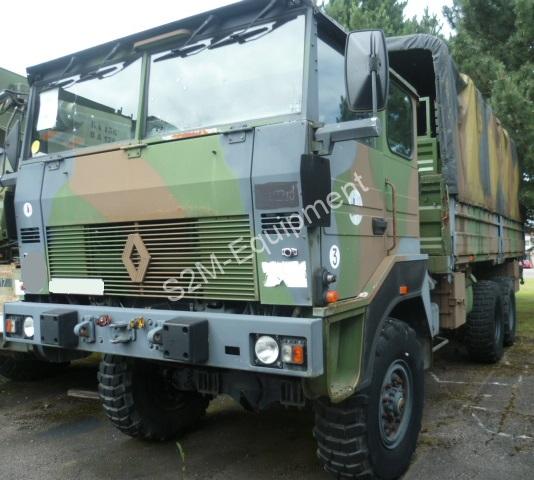 Our TRM10000 Cargos are second-hand vehicles from the stocks of the French Army – without registration papers
Equipment in very good working order and with low mileage.
Chassis including a cabin for the driving position (4 seats), a platform / tray and a tarpaulin. Some have a crane.
Great crossing capacity
Model
Brand
Motricity
Energy
Year
Km
Dimensions
Further information
TRM10000 Cargo
RENAULT
6×6
Diesel
from 1981 to 1992 (depending on vehicle)
between 400 and 150,000 km (depending on vehicle)
Length: 9.30m

Width: 2.50m

Height: 3.85m

Area: 23.11m2

4 seats, manual gearbox (8 forward / 1 reverse gears), 3 axles, 6-cylinder engine, GCW: 29 tonnes, Empty weight: 14.37 tonnes, GVW: 23 tonnes, payload: 9 tonnes, Brakes air.
Mechanical overhaul & exterior painting included.

Vehicles intended for export sale only.

Sale in batches possible.